Vita
Maighréad McCrann has been 1. Concertmaster of the ORF Vienna Radio Symphony Orchestra since 1993. In 1997 she was appointed Professor of violin at the University of Performing Arts in Graz. During this time she has also enjoyed a versatile career as a soloist, chamber musician and directing chamber orchestras from the violin. Her passion for teaching has resulted in many masterclasses and intense coaching with the youth orchestras of Spain, Catalunya, Columbia, the Vienna Jeunesse Orchestra and the National Orchestral Institute in Washington. Born in Dublin where she studied with Brian McNamara, she graduated from Trinity College of music in 1984 and commenced studying in Vienna with Ernst Kovacic. Further violin lessons with Sandor Vegh and David Takeno. She was a member of the Chamber Orchestra of Europe and played baroque violin with Nikolaus Harnoncourt's Concentus Musicus.
News
Master classes
08. – 14.07.2019
Granada, Spain
Link to application form

15.07. – 19.07.2019
Neuberg an der Mürz, Austria
Congratulations
for winning the audition to
Tobias Kausel, Malta Philharmonic Orchestra
for the academy positions to
Nefelina Muselyan, Bruckner Orchester Linz
Denis B. Martin, ORF Radio-Symphonieorchester Vienna
Radio Interview
Ö1 Radiokolleg:
Concertmaster Maighréad McCrann talks with Renate Pliem about the bow.
Here is a selection of recordings in which Maighréad McCrann has participated.
Press
El Periódico (Barcelona, Katalanien) 22.04.2015
[…] Die Konzertmeisterin glänzte in Des Helden Gefährtin mit ihrer lyrischen Interpretation, voll von Virtuosität. […]
Kronen Zeitung (Österreich), 14.04.2015
[…] grazil und emotional: Sologeigerin Maighréad McCrann […]
International Record Review (February 2015)
[…] Leader Maighréad McCrann is magnificent in her long solo: now seductive, now skittish, her contribution is a major point in favour of this performance.
El mundo (Madrid, Spanien) 22.04.2015
[…] Eine spezielle Erwähnung verdient die Konzertmeisterin, Maighrèad McCrann, die im dritten Teil, Des Helden Gefährtin (La compañera del héroe), seelenruhig wie eine Konzertsolistin agierte. Sie zeigt ihr überaus hohes technisches Können/Entfaltung,  das sie in den Dienst der verschiedenen zu vermittelnden Gefühle wie Verführung, Freude, Stolz und Zartheit  stellte. […]
Gramophone Magazine (February 2015)
[…] The violin solo depicting Strauss's loving wife Pauline is charismatically played by Maighréad McCrann […]
Kleine Zeitung (Österreich) 14.04.2015
[…] Hinreißend schön spielte Maighréad McCrann das Violinsolo. […]
Teaching
Extensive teaching in numerous master classes in Europe and the US (National Orchestral Institute) led in 1997 to the appointment as a professor for violin at the University of Music and Performing Arts in Graz, Austria. In addition to teaching at the KUG Maighréad McCrann is regularly invited as a teacher at the Vienna Jeunesse Orchestra, the Jonde (National Youth Orchestra of Spain) and the National Orchestral Institute in Washington, USA.
Many of her students have made international careers:

Jose Manuel Alvarez de Losada
Professor Conservatory of Music and Dance,
Palma de Mallorca
Mojca Arnold
Slovenska filharmonija (Ljubljana)
Maximo Aroca Gonzalez
Orquesta de Euskadi, Orquesta Sinfonica de Bilbao, Orquesta Sinfonica de Burgos,
Orquesta de Camara Reina Sofia
Judit Bofarull
Professor Conservatori Municipal
de Música de Barcelona
Claire Dolby
Wiener Symphoniker
Florian Eger
Theater Ulm
Ferdi Fanaj
Teacher at the music school in Pristina
Daniel Gil
Professor Conservatori Municipal
Mestre Montserrat de Vilanova
Stephanie Grandpierre
Tonkünstler-Orchester Niederösterreich
Noemi Huszar
Ungarische Staatsoper
Rumyana Jankova
Hamburger Symphoniker
Tobias Kausel
Malta Philharmonic Orchestra
Elena Kodin
Wiener Symphoniker
Javier Morales Lopes
Sede Orquesta Sinfónica de tenerife
Anna Marchercyk
Bremer Philharmoniker
Denis B. Martin
ORF-Radio-Symphonieorchester Wien
Nefelina Muselyan 
Bruckner Orchester Linz
Levan Pagava
Opéra Royal de Wallonie (Liege)
Doris Panzl
Bremer Philharmoniker
David Peralta Alegre
Dutch National Opera Amsterdam,
Professor Orchestral Performance
Conservatorium Amsterdam

Claire Quezel
ORF-Radio-Symphonieorchester Wien,
Wiener Symphoniker, Brucknerorchester Linz,
Haydn Philharmonie
Violaine Regnier
ORF-Radio-Symphonieorchester Wien
Fabian Romera
Fundación Orquesta de Extremadura
Ulrika Rysgaard
Sønderjyllands Symfoniorkester
Catalina Sureda
Professor Conservatori Superior de Música
de les Illes Balears (Mallorca)
F.A.Q. ABOUT STUDYING AT KUG IN GRAZ
When do I have to send the application for the entrance exams?
You have two possibilities. One for the Winter Semester (July) and one for the Summer Semester (February). These are the deadlines:
Bachelor
WS: 03.06.
SS: 13.01.
Master
WS: 01.05.
SS: 01.12.
What are the requirements for the entrance exam?
Is it possible to have a lesson with you before the audition?
I cannot possibly teach everybody who asks for a lesson. The fairest way is if you send me a short video (max. 10 min) to get an idea of your level. 
Is it possible to do an Erasmus exchange with you?
Where can I attend master classes?
08. – 14.07.2019
Granada, Spain
Link to application form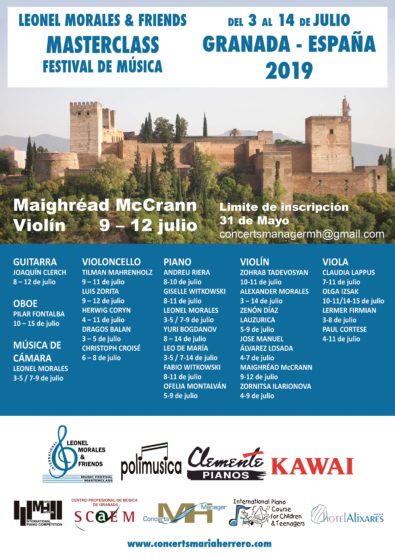 15.07. – 19.07.2019
Neuberg an der Mürz, Austria
29.07. – 03.08.2019
Brescia, Italy

Welcome Center
The Welcome Center of the University of Music and Performing Arts Graz acts as a first central contact and service point for prospective students and university applicants.



Link
IMPRESSUM
Medieninhaberin: Maighréad McCrann
Wohnort: Wien
Bildnachweis Porträts Maighréad McCrann: Julia Wesely
Der Inhalt dieser Website ist urheberrechtlich geschützt und das Speichern oder Vervielfältigen von Texten oder Teilen daraus sowie von Bildmaterial oder Grafiken ist ohne schriftliche Genehmigung des Medieninhabers untersagt.
Trotz sorgfältiger inhaltlicher Kontrolle wird keine Haftung für die Inhalte externer Links übernommen. Für den Inhalt der verlinkten Seiten sind ausschließlich deren Betreiber verantwortlich.